FOR IMMEDIATE RELEASE
I just received this comment from award winning investigative reporter Larry Shook of Camas Magazine & Girl from Hot Springs – The True Story of a Political Innocent in a City of Secrets (The Tragic Death of Jo Savage in the infamous RPS Parking Garage & Related RPS Bond Fraud in a book soon to be published).  I have edited this slightly to remove private email addresses.
Mr. Shook also refers to a letter I just sent to WA Ast. AG Scott A. Marlow who reviewed the material on behalf of the AG Office submitted to their office by Spokane County Prosecutor Steve Tucker in the death of Jo Savage in the RPS Parking Garage owned by the Cowles Co.
Both former Sheriff Tony Bamonte of Pend Oreille Co, WA of Breaking Blue fame and I, both career law enforcement professionals, believe that there was extraordinary evidence to file charges of First Degree Manslaughter against the owners of the parking garage re the tragic and preventable death of Jo Savage. Sheriff Bamonte and I also believe that the evidence proves that Jo Savage died as the direct result of this public corruption [Emphasis added][See further note below]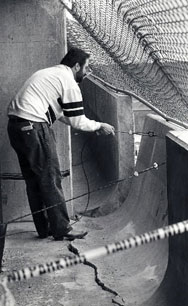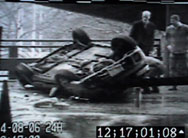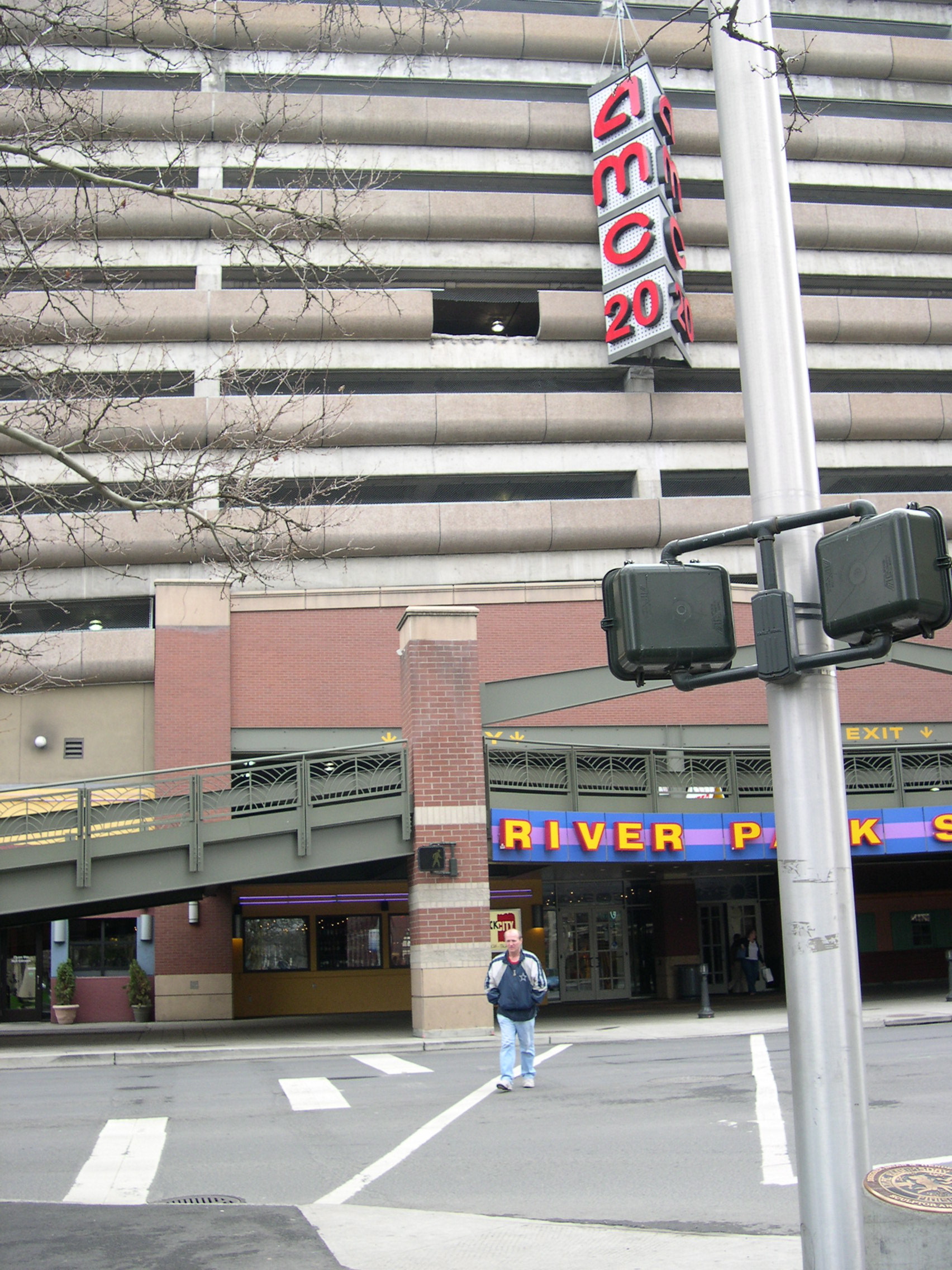 (Left) Spokesman-Review archive photo circa 1991 showing a RPS Parking Garage vehicle barrier that failed in similar fashion as the one that broke in 2006 causing Jo Savage to fall – screaming all the way to her horrible death on April 8, 2006.  (Center) Savage's vehicle as it came to rest on the garage ramp apron.  (Right) Spandrel that failed causing Savage's death
As I said in my letter to Mr. Marlow I discovered in the Attorney General's case file via a public document request (PDR) explosive letters by the former husband of Jo Savage, David Savage, a prominent personal injury attorney and former president of the Washington State Bar Association, Rob Rembert's letter to Tucker (Rembert of the Savage's law firm handled the $1.6M successful wrongful death action against the Cowles Co) and Sally Savage's email  (David Savage's current wife) a former Senior Assistant WA Attorney General to her former Attorney General colleagues on behalf of the Savage family.
As David Savage wrote in his letter of 03-19-09 to Attorney General Rob McKenna:
. . . it is important, however, that all those responsible for this matter understand I firmly believe the information placed in Mr. Tucker's hands, and now yours [WA AG McKenna](which includes the fruits of my work, the work of the United States Attorney for the Western District of Washington, the Federal Bureau of Investigation and a Grand Jury), clearly describes culpable criminal conduct [Emphasis added].  The owners of the garage knew for years prior to Jo's death of the very structural infirmity that resulted in it.  Nevertheless, they chose not to correct the problem.
From Rob Rembert's letter to Tucker of 09-17-08:
. . . I write to offer assistance from our files which support the settlement we achieved on the claims of one million six hundred and ten thousand dollars ($1,610,000.00) with the insurers for the Cowles.  Based upon our investigation, it is clear that the owners of the parking garage had longstanding and detailed knowledge that the spandrels were likely to fail as the result of foreseeable vehicular contact.  Despite this knowledge, the owners took no corrective action notwithstanding the fact that several engineers recommended it well prior to Ms. Savage's death. . . . [Emphasis added]
Given these facts, I trust you can understand why we feel strongly that this matter warrants a     careful criminal investigation.  Because of the Cowles' prominence and the City's involvement with the garage [it] is imperative that your investigation be supported by the Washington State Patrol, a law enforcement agency of the highest integrity. . . [Emphasis added]
From Sally Savage's email to the Attorney General's Office on 03-19-09:
I also conveyed to you our desire to meet with one of you or an appropriate representative of the Attorney General's office after the review of this case is complete.  It is important to us to feel that at the end of the day we have carried out our responsibility to Jo, Jesse and the rest of our family by ensuring that we have conveyed our own feelings about this matter and that we understand the process and the conclusions reached by those who will decide the final disposition of this case.  I trust you understand that our request is motivated by a desire the [sic] ensure that we have done all that we reasonable and responsibly should, and that at the appropriate time this matter is brought to closure, whatever the outcome may be.
As I said to Mr. Marlow:
. . . I trust you see the implication here as this relates to the ongoing criminal enterprise led by the Cowles Co. In my opinion Tucker succumbed and deferred to the interests of this criminal enterprise [Led by the Cowles Co] by his setting the Savage case up to fail.  Tucker threw this case as a prizefighter would throw a rigged title fight.  While Tucker could fool the fight crowd, Sheriff Bamonte and I were not fooled and know exactly what he did – he took a fall [My emphasis].
For further information and reference, these previous posts are useful to understand how this systemic and insidious public corruption led to the horrible death of Jo Savage on 04-08-09 in the RPS Parking Garage.  The as yet unanswered question is whether the RPS Parking Garage is safe for continued public occupancy?  The citizens of Spokane don't know and their government won't tell them:
Det. Ron Wright (Retired)
Professional Vitae
Note:
Sheriff Bamonte and I concluded, independently of each other, that there was extraordinary evidence to charge the owners of the RPS Parking Garage with First-Degree Manslaughter  (RCW 9A.32.060), Tucker failed to follow up on the material given his office by the US Attorney's Office to review under existing state law involving negligent homicide.  Tucker failed to ask the necessary probative questions of percipient witnesses that would have in our opinion obtained the requisite criminal knowledge of the owners to file criminal charges that he found so conveniently lacking.
The legal elements and burden of proof for manslaughter involve the concepts of ordinary care and/or due diligence that is due all patrons by business property owner(s).  Specifically First-Degree Manslaughter in the State of Washington requires, ". . . recklessly causes the death of another person" (RCW 9A.32.060).   General requirements of culpability under WA state law (RCW 9A.08.10) defines reckless as:
RECKLESSNESS. A person is reckless or acts recklessly when he knows of and disregards a substantial risk that a wrongful act may occur and his disregard of such substantial risk is a gross deviation from conduct that a reasonable man would exercise in the same situation.
The owners of The Station bar in the Providence, RI were held to a similar standard when criminally convicted for the tragic fire that killed 100 patrons.  In my opinion the complicity and guilty knowledge of the RPS garage owners is even more compelling and egregious than in this bar fire.
The mitigating defense as expressed by Tucker for his decision not to file any criminal charges that these parking barriers met any building code is specious, a red herring and fails the common sense or reasonable man test [Emphasis added].  Whether these barriers met any building code standards is not relevant.  The simple fact remains these barriers were failing and the owners knew it.  The tragic death of Savage was a foreseeable and likely event for fifteen years running. Tucker by his lack of action ensured the Savage case was buried from public view and scrutiny. The Spokane County Prosecuting attorney made sure that no impartial jury would ever see and hear the very damning evidence and testimony to decide the guilt or innocence of the owners.
———- Forwarded message ———-
From: Larry Shook <lwshook@gmail.com>
Date: Wed, Oct 28, 2009 at 10:08 AM
Subject: Re: RPS fraud & new Idaho lawsuit
To: rocketsbrain <nar9350@gmail.com>,
Detective Wright: I agree with "Bill," referred to in your correspondence below. The new taxpayer lawsuit in Idaho, referred to in this link, seems on point regarding the unhealed RPS fraud and attendant RPS garage death of Jo Ellen Savage.
October 28, 2009
Filed under: Probable Cause — Bill @ 6:10 am
"This morning's Coeur d'Alene Press article by Maureen Dolan is headlined "Taxpayers sue NIC."  She reports that on Tuesday, October 27, 2009, north Idaho residents Larry Spencer, Tom Macy, and Bill McCrory filed a lawsuit in First District Court naming North Idaho College and the North Idaho College Foundation as Defendants.  This matter relates to Article VIII, Section 3 of the Idaho Constitution.  The Plaintiffs allege that the Defendants entered into a certain lease agreement in contravention of Article VIII, Section 3 of the Idaho Constitution and that the lease should be declared void by the Court.  The factual allegations are included in this complaint filed with the Court.  According to the Court Clerk, the case has been assigned to Judge Mitchell."
As Sheriff Bamonte has repeatedly noted, the violative donative intent of the RPS deal is abundantly documented. And, as the city's first RPS special counsel, O. Yale Lewis, has also repeatedly noted, discovery in the RPS securities fraud case documented that. When the state Supreme Court allowed RPS to go forward, deferring to the "legislative authority" of the Spokane City Council, it did not have the benefit of those subsequently exposed facts, as Mr. Lewis has noted. That's why he continually recommended that the RPS transaction be returned to the state's high court for review of the new evidence. (Supreme courts, notes Mr. Lewis, tend to be very protective of the constitutions entrusted to them.) Mayor Verner, and her city attorney, Jim Craven, refused to do that. They also refused to let Mr. Lewis openly address the public about his perspective. One can only presume that their refusal was based on their reluctance to present sordid evidence to the state's highest court that public corruption in Spokane–specific affirmative acts by specific public officials–led to the violation of the state's constitutional prohibition against giving public money to private parties for improper uses. Similar acts after the fact saw to it that Spokane's citizens would never understand what had been done to them. (Please see, inter alia, "The Mayor's Confession," and "A New RPS Fraud?" at www.camasmagazine.com.) Since that time, of course, the governor of Washington, the state attorney general, the Spokane County Prosecuting Attorney, the mayor of Spokane, Spokane's Chief of Police, the Spokane County Sheriff, the office of the U.S. Attorney General, and the FBI have all refused to conduct the criminal investigation requested of them. (Please see "Deathtrap" at www.girlfromhotsprings.com.) As Mr. Lewis has repeatedly noted, this is an unresolved legal matter that will inevitably fester until it is openly and honestly addressed. (For further reference, please see other reporting at www.girlfromhotsprings.com)
A note: as they will see, many recipients of this message have been blind-copied. Every now and then some well intentioned person will let me know that the public "is tired of RPS." I understand. I request that anyone who does not wish to receive these messages just let me know. Unless you are a public figure implicated in the RPS scandal, I will honor your request. I intend to continue to report on, and comment on, the RPS scandal until it is resolved. Here's the thing. As a door gunner on a helicopter gunship in Vietnam, I witnessed the battlefield deaths of countless young men who had been sent on an ill-advised errand to defend our country's way of life. There's something about seeing young men converted to dead bodies wrapped in their own poncho liners that leaves a lasting impression, and sense of obligation, on one. Like other surviving Vietnam veterans, I returned home with life, but not life without personal memories of Vietnam and the devastating costs of corruption and cowardice in high places. RPS is one of the most repugnant assaults on American democracy that I have personally experienced. I will no more walk away from this story than I would have gone up to my old gun platoon leader and said, "I don't want to fly today, sir. I don't feel good." I didn't go looking for the RPS story. It found me. We will remain companions until there is resolution. I think my old buddies expect that of me. Thanks again for sharing the above interesting story, Detective Wright. And thanks again for your tireless efforts on the public's behalf.
Sincerely, Larry Shook
P.S. As always, recipients are welcome to distribute this message however they choose.
On Wed, Oct 28, 2009 at 7:56 AM, rocketsbrain <nar9350@gmail.com> wrote:
Interesting from Berne's friend over in CDa.

———- Forwarded message ———-
From: Berne M. Indahl . . .
Date: Wed, Oct 28, 2009 at 6:59 AM
Subject: Law Suit and Bill McCrory
To: nar9350@gmail.com

—–Original Message—–
From: Bill McCrory . . .
To: Berne M. Indahl . . .
Sent: Wed, Oct 28, 2009 3:14 pm
Subject: Re: This should cause some heartburn:-)

Berne,So should this.

Bill
On Oct 27, 2009, at 10:53 PM, Berne M. Indahl wrote:

———- Forwarded message ———-
From: rocketsbrain <nar9350@gmail.com>
Date: Tue, Oct 27, 2009 at 4:39 PM
Subject: Savage Case (CMS 10420893) – Mr. Marlow – Several questions for you

Dear Mr. Marlow,

You never responded to my letter of 04-21-09.  If you would be so kind to answer the questions in my attached letter of 10-27-09.  This letter is also stored on my server in a MS Word .doc file that has my sources and references "hotlinked."

Det. Ron Wright (Retired)